Senate president, Bukola Sarak, has told Nigeria that next year's budget would be transparent. This comes as the government has exhausted its arsenal in calming a very disappointed people.
Fiscal allocations is not one of Nigeria's problem.
The crux rather is that there is nothing to allocate.
2015 budget is at $65 pb and the current government earns when it is able between $40 and $47 pb. Meaning Mr Buhari has been running a deficit government.
States have resorted to EuroBond loan that are backed by the national government. The servicing of these raft of loans will be payed in real dollars.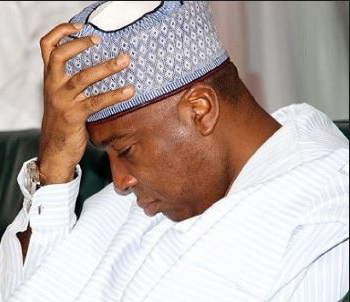 Here is one trap: Nigeria's Crude is sold via intermediaries; most of which are foreign banks.
These same banks do the transactions of the World Banks loans. When they collect the droplets that is now Nigeria's earnings, they would simply remove there money( interests on the loans) and give NNPC the rest.
Hence the corporation declared an operating loss of 60 and 70 billion Naira in August and September.
Honesty will do nothing to assuage the pains that spreads ahead.
With world over-supply and stockpile at 487 million barrels the forecast for 2016 is that oil prices will average at $45 pb.
What this means, is that Mr Buhari's government will not even be able to run a deficit. The weight of today's not well-thought-out loans will grind the nation.
An example: Capital allocations for this year is $2 bIllion and the Construction industry is dead. Projects that the former government started are on hold.
$45 pb for 2016 means more companies will close, unemployment will be at a new record high.
A sustained angst and focus on lower needs by the masses will lead to unprecedented crime wave as people struggle to feed dying children.
Already, Nigerians commit suicide on a scale that is unseen before.
Senator Saraki, like the government, has no idea what confronts Nigeria.
Now to honesty: if oil prices stay at those forecasts, there would be no rich or poor Nigerians.
Only very angry people.